There's Lots of Recreational Facilities and Activities at Bykota
At Bykota Center we have facilities  accomodate many activities as part of membership. Join a club or sign up for an activity of your interest. With the exception of the fitness center they  are free of charge to Bykota membership.
Play Pool

We have three regulation pool tables available during the day. No sign-up is necessary. Enjoy a game with friends!

Basketball Court
Our basketball court is open to all registered members.We have recreational basket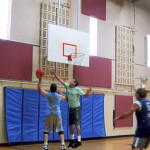 ball which must be scheduled at the front desk in advance, and/or team basketball which is scheduled for Monday,Wednesday and Friday of each week. Ask the Front Desk for information.

Play Card and Board Games
In addition to the regularly-scheduled classes of bridge, you can form or join a group for Canasta, Hand & Foot, Mahjongg, Hearts, Scrabble, Chess etc. See the "classes" section of the Bykota Buzz for  times and locations of regularly scheduled games.

Fitness Center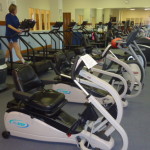 Join us at the Fitness Center. We have treadmills, weight machines and more! You will need a doctor's authorization and you must attend our Fitness Center Orientation before you are eligible for membership.The Front Desk has membership forms and sign-up schedule for orientation. Fee is $25/quarter. See the Fitness Center page for more info.

Lounge
Our lounge has a large TV, comfortable couches chairs and tables. Great for casual meeting with friends or relaxing.

Cafe'
The Cafe' hosts the Eating Together program for lunches ,  McDonoughs Cafe' for morning coffee and donuts, and Bingo on Wednesday afternoons.   Enjoy a tasty lunch sponsored by the Baltimore County Department of Aging ( reservation only)  Monday, Wednesday, Friday starting at 12:00 noon. See Eating Together Page for detailed information. On Wednesdays, immediately after lunch, join us in  Bingo  starting about 12:30.
McDonoghs Cafe' has  coffee and donuts 8:30-10:00. M-F for a small fee .  No reservations needed. A  self serve morning coffee and hot water urn is also available M-F for small change.  The Cafe' area is open during the entire day during center hours for members' use.

Arts and Crafts Rooms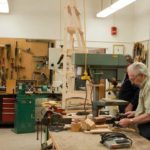 As part of membership benefits you can use our facilities for sawing, sanding, carving. We have a wood shop with the latest power tools. The wood shop manager is usually in. There is no fee.
You may also join our   craft groups lead by volunteers  that meet in the arts and crafts rooms including:  wood carving  group,  knitting and crochet group, quilting , and stained glass. See the "classes" section of the Bykota Buzz for regularly scheduled groups.

Buy/Borrow Books/ Book Club
You can borrow a book from the second floor library, located ahead  just as you get off the elevator. There is also a book sales table on the first floor where you can make a purchase for a small amount of money.  You can join the book club which meets on Tuesdays. The BCPL also comes on Tuesdays where you can borrow a book with a library card. See details in the Bykota Buzz.

Gift Shop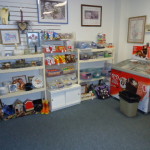 Grab a sweet or salty snack or just look around for an interesting purchase. The shop has nearly new items such as handbags, cards, jewelry or home decor items for a reasonable price.
Computer Room

Check your email, a website or type some documents. We have quite a few computers loaded with the latest software.  Check at front desk for computer room hours.

 Gym/ Stage/Participate in Stage Productions

Do you have some talent? Join Bykota on Stage and sing, dance and act a little. Bykota On Stage is a drama group sponsored by the Senior Center Council. They are a non profit organization. They give performances at Bykota several times a year.   Visit  the website BykotaOnStage.org   For more information.
Dances in the Gym
Ballroom, Be-bop, Line Dancing take your pick. Dances are held several times a month in the gym. Check the Bykota Buzz for more information.